Coffee and China: changing the geopolitics of coffee
Until recently, the coffee culture in China was almost non existent. However over the last few years the landscape had changed much. With 600 Starbucks in Shanghai, a Chinese coffee competitor listed on the Nasdaq, the size of Chinese appetite for coffee has changed the international coffee dynamics.
On a Sunday afternoon, you decide to go for a walk under the warm sun, and pass on the 2nd floor terrace of the LFS shopping mall, where people usually hang out with kids and dogs to socialise and enjoy some outdoor time. Three coffee shops have tables outside; they all have distinctive signs and design. One is also a library. One has a modern and slick cement and metal design. Only one used to be a traditional tea house that now sells as much coffee as the two others.
While Cafes were a thing in Shanghai a century ago, during the Golden Age of foreign concessions, it has struggled to find a place among local population, used for thousands of year to drinking tea. Up to now.
Competition
Chinese consumption has increased from below 0.8% of the world consumption in 2012, to over 2.5% within 7 years, a 3-fold increase. Starbucks locations in China keep increasing, not only in large coastal cities such as Shanghai but also in more Western cities like ChongQing or Chengdu, for over 4000 branches and increasing. This has spurred a coffee rush, with several global brands competing to enter the market.
Maan Coffee, the Korean chain, opens coffeeshops with attention to the design, in a Harry Potter style design, with wood, metal and art nouveau elements. Starbucks pops up in just any shopping mall, big or not. Luckin Coffee, the Chinese shooting star, aims at providing take-away or delivery coffee and opens front shops with only minimal space, a couple tables maximum, in an attempt to flood the country with sale points on a lower budget; it also offers coupons, effectively undercutting Starbucks prices by 60% on most of its sales. A multitude of independent cafes also open in different places; not many close, a good sign in a competitive business.
Production
As Chinese consumption has increased, local production, in particular in Yunnan, has followed. In 2016, Yunnan production has increased by 50%, reaching 100,000 tons and $450M. While far from the 6 Billion USD produced in Vietnam, it started re-shaping the agricultural sector in Yunnan, traditionally more centered around famous Pu'er tea production. Some of the production is for export, despite an increasing internal demand: Starbucks now uses some of the Chinese beans for its blends sold in Asia.
About half on the consumption comes from import though, and most of it filled by Vietnam. This has caused some environmental impact in particular in the Central Highlands, where demand for coffee has spurred minorities displacement and deforestation. The future of coffee production in Vietnam is also gloomy as climate and rain patterns change will impact productivity in the coming decades.
Yunnan
"If China can make the best tea in the world, why can't China make the best coffee in the world?"

Samuel Gurel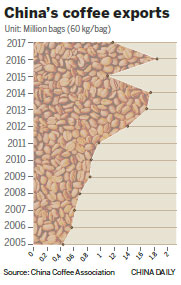 With a tradition of tea production, especially the world renowned Pu'er, Yunnan has naturally become the hub for coffee production (though the distribution center is in ChongQing). This is indeed due to the mild climate and hilly area suitable for coffee.
Exports have been growing, but the region still faces challenges. Companies are not fully mature yet, and international trade is still limited by the relative inexperience of local producers. There is a need for coordination in taste, and for marketing, as apart from tea, China's don't have very good reputation abroad.
Similarly in the local market, Chinese people tend to prefer imported beans with a perceived higher quality, along with the exotic expectation from an African or South American bean.
This is a reason why, despite not being sufficient to fulfil local demand, half of the production is exported at lower prices.
The key to Yunnan coffee's success is being adopted by the local market. Market studies are necessary. But this is China, and a clever marketing will have a higher chance of success than anything else.
Piggy backing on the Luckin Coffee international success and recognition, along with national sentiment and pride, would surely help strengthening national production and reputation.
International Relations
Coffee has become a geopolitical topic, and countries start modifying their relations thanks to coffee. Maybe because of drinking coffee on political meetings. Joke aside, Ethiopia for example tries actively to please China and get a share of the Chinese market, which represents a fraction of what it exports to Europe.
Exploiting the opportunity from the Chinese emerging market for Ethiopian coffee is one of the areas on which the East African country is focusing

Tatek Girma, Director of Market Development and Promotion at the Ethiopian Coffee and Tea Authority, for Xinhua
More recently, last October, ministers of Agriculture from China and Vietnam met in a Forum in Hanoi. They are planning to help businesses strengthen their relationships, and help develop coffee trade channels, and coffee technology.
Trade channels would help Vietnam increase even more its already huge share of coffee exports to China; meanwhile China sees an interest in helping develop technology to boost production and have its companies get a share of the Vietnamese production and companies.
International relations start being influenced by the Chinese coffee amateurs, and considering the consumption growth over the last five years, it is sure to have some non negligible impact in the near future.